REBUILD MUSCLE*
RAPID RECOVERY*
ENHANCE STRENGTH*
ENDURANCE**
POST-WORKOUT
GLUTEN-FREE
Regular price
Sale price
$ 33.59
Unit price
per
30 Day Money Back Guarantee
DIRECTIONS

As a dietary supplement mix 1 scoop of RecoverMode in 12-14 oz of cold water (vary amount of water by taste preference) immediately after training.

Warnings: Not for use by those with pre-existing medical conditions; those taking any medications; those under the age of 18 or women that are contemplating pregnancy, pregnant or nursing. Keep out of reach of children and pets. Store at room temperature.
SHIPPING

We only ship to locations within the United States. For international customers, please check out our Where to Buy page to see where EVLution Nutrition products are sold in your country.

Our team normally processes orders within 24-48 hours after they are placed. Please see below for normal shipping estimates after the order has been processed.

Contiguous US:
Standard Shipping: 5-7 business days

Alaska & Hawaii:
Standard Shipping: 7-10 business days

PLEASE NOTE: Carriers may experience shipping delays from time to time. So while we make every effort to get your order to you as soon as possible, delays may occur so please allow extra time for delivery.

IMPORTANT: Your order may be shipped in multiple packages and/or deliveries. If you have not received your full order with the first delivery, don't worry as the rest of your order should arrive within 1-2 business days afterwards.
View full details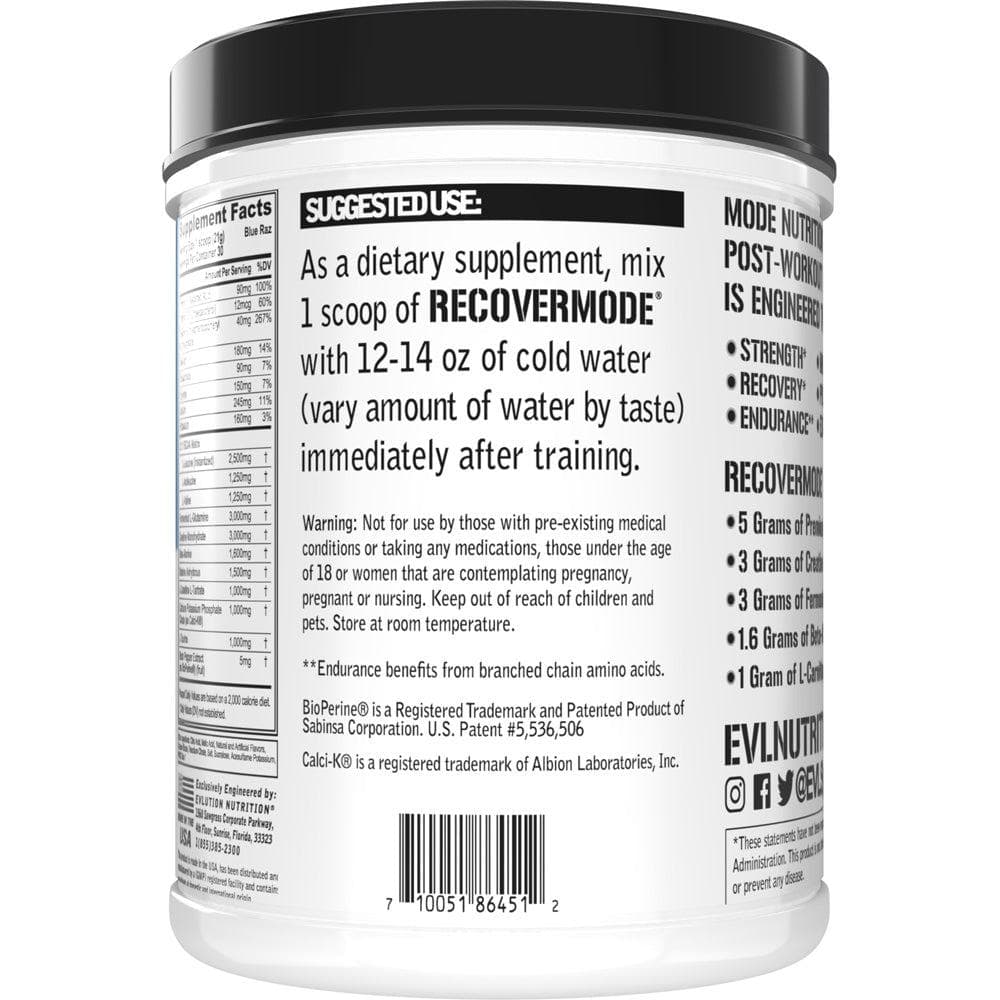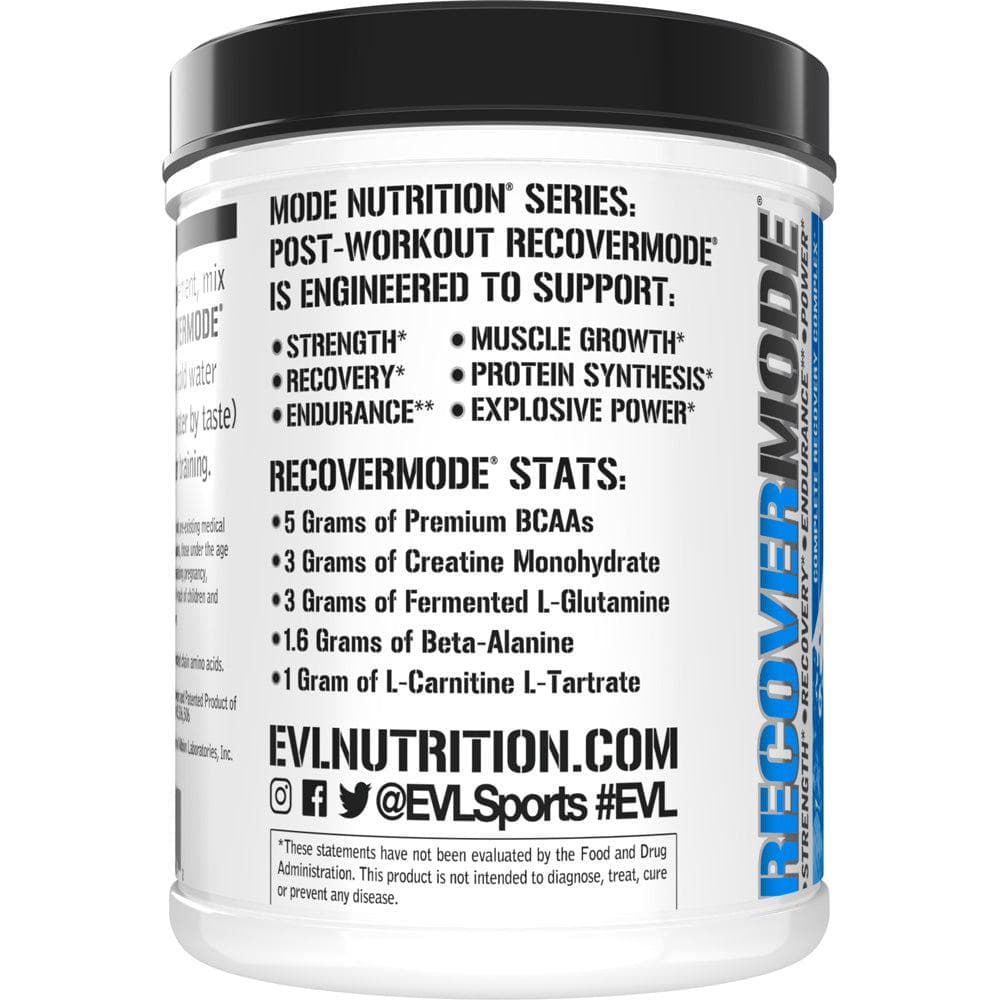 WHAT MAKES RECOVERMODE BETTER?
Helps Protect Muscle From Breakdown
BCAAs have been shown to preserve muscle mass under extremely catabolic conditions characterized by protein breakdown and muscle wasting. During exercise, muscle protein breakdown and BCAA breakdown for energy is increased. By providing supplemental BCAAs, the body is less likely to consume its own protein stores. Think of BCAAs as protectors for your muscles.
Promotes Muscle Protein Synthesis
Which is a key factor in building and maintaining muscle. Leucine is the most important of the three BCAAs for initiating muscle protein synthesis which is required for muscle building. A dose of 2-3 g leucine is generally considered effective in stimulating muscle protein synthesis and is often referred to as the leucine threshold. RECOVERMODE has 2.5 grams of Leucine per serving, which equals the amounts found in a normal serving of meat or 5 eggs.
Reduces Muscle Soreness and Repairs Damage
Consuming BCAAs before, during, or after exercise may reduce the level of muscle soreness felt after heavy training. Furthermore, studies have shown that BCAA intake reduces muscle breakdown that occurs during both resistance/weight training and endurance exercise. That means you can recover faster and have less muscle soreness between challenging workouts.
HOW TO USE
As a dietary supplement, mix 1 scoop of recovermode® with 12 - 14 oz of cold water (Very Amount by Water by Taste) immediately after training.